After 22 years of service, the U.S. Coast Guard Dorado and its crew set sail from the Crescent City harbor for a final time in March, as the ship was decommissioned from active duty.
During its service in Crescent City, the Dorado has been a flexible, multi-mission asset to the U.S. Coast Guard and law enforcement in Del Norte, as well as Mendocino and Humboldt counties. Crews aboard the Dorado executed over 130 search and rescue missions and more than a thousand safety inspections. They also enforced fishing laws and completed regular patrols stretching the West Coast from Mexico to Canada, not to mention, a long list of community service activities.
The current commanding officer of the Dorado, Lieutenant Rebecca Cotton, said Crescent City is a unique place to serve.
"The quality of the people here, they are very invested in their town. As a result, they are invested in us, and they are interested in us because we represent safety for the town," Cotton said. "That support and that feedback is very important for us. It gives a reason to want to serve here."
The 87-foot cutter, a term used by the U.S. Coast Guard for its commissioned vessels, was built by Bollinger Shipyards in Lockport, La. and then traveled 6,000 miles from New Orleans to Crescent City. During the inaugural trip, the crew of the Dorado were called to rescue two teenage boys whose boat was capsized near the mouth of the Mississippi River. This was to be the first of many successful rescue missions completed by crewmembers aboard the Dorado.
The vessel arrived in Crescent City and was commissioned in April 1999. In late 2000, the crew aboard the Dorado rescued six people, including four children, from their disabled skiff near Point St. George. Most recently, the cutter towed a vessel to safety after it had lost propulsion in Mission Bay and was drifting toward a jetty, in Oct. 2020.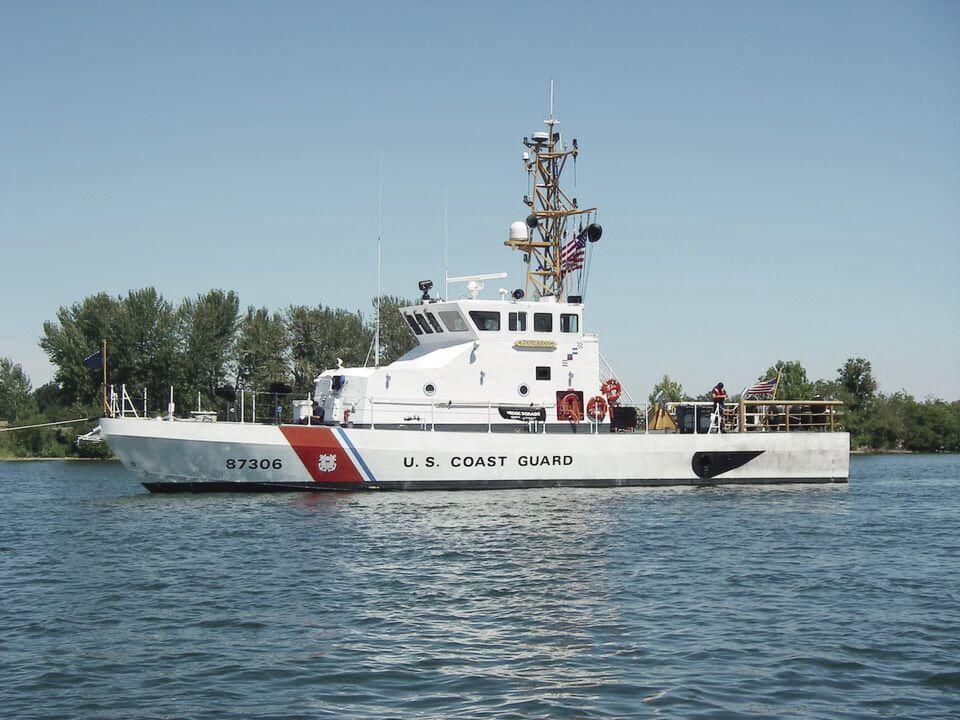 When the Dorado was needed, she was ready. Following the September 2001 terrorist attacks, the Dorado and its crew were called to San Francisco for three weeks of non-stop security and anti-terrorism duties, which included escorting high-interest vessels and responding to bomb threats on the Golden Gate Bridge. In the aftermath of the 2011 tsunami, the Dorado crew helped raise 15 sunken vessels, assisted another that had run aground and removed over 2,000 gallons of oil from the water.
Recently, the Dorado made its first drug bust when it intercepted a smuggler vessel harboring over 1,400 pounds of illegal cannabis near the San Diego border with Mexico on one of its regular, offshore patrols.
Beyond daring rescues and law enforcement patrols, Dorado crew members have made lasting impacts in Crescent City through community outreach and partnerships. Between 1999-2001, crew members teamed up with the community to establish the volunteer U.S. Coast Guard Auxiliary Branch in Crescent City, which remains an integral support for local law enforcement. In 2014, the crew helped establish an annual Community Water Safety event, guiding hundreds of local children on tours of the cutter and water safety demonstrations. The Dorado crew has also worked with the local U.S. Naval Sea Cadets Corps, a youth leadership program within the Navy, and supplied honor guard members for Memorial Day and Veteran's Day services.
Although the aging cutter does not have a direct replacement, it will not leave behind a void in its place. As it spent much of its time on patrols away from its home in Crescent City, the Dorado could not respond to distress calls, nor was it designed to, said Lt. Cotton.
"The Dorado has certainly done search and rescue while they are already out on patrol, but whenever it's sitting there in the harbor it takes us 12 hours to spin it up because it's not a response crew," she said.
Instead, those duties will continue to be performed by less noticeable local law enforcement boats in conjunction with the Coast Guard Auxiliary Flotilla, Coast Guard Station Chetco River, Air Station Humboldt Bay and Coast Guard Station Humboldt Bay. Recently, Station Humboldt Bay acquired an additional boat to improve hazardous weather response.
The long-distance, offshore patrols and safety checks that Dorado was responsible for will continue to be carried out by its sister ship USCGC Barracuda, said Cotton. However, the Coast Guard is in the midst of replacing all of the older cutters with a new fleet of fast-response cutters, which are double the length of its predecessors.
Following the virtual decommissioning ceremony Wednesday, the Dorado departed to join the navy fleet of an allied nation.