Haystack Rock is one of Oregon's most recognizable landmarks and is home to diverse bird life. One of the most colorful of these birds is the Tufted Puffin.
Haystack Rock has the largest population of nesting Tufted Puffins on the Oregon Coast. The puffins burrow in the grassy meadow on the north and western faces of the rock. The puffins live at Haystack Rock from April to August, and the best time to view them is during sunny, morning low tides.
Puffins spend seven months of their life bobbling in the ocean and come back to the same burrow on the rock. They sometimes fly up to 70 miles from Haystack Rock in order to find food, according to a Director from Friends of Haystack Rock, John Underwood.
Tufted Puffins are highly recognized because of their facial features – a white face, thick orange bill, and yellow eyebrow tufts. Most of the year, the puffins are a gray color, but during spring, their bright colors emerge. Underwood calls them an "icon of Cannon Beach" and he's right. Cannon Beach is the best place to view these magnificent birds.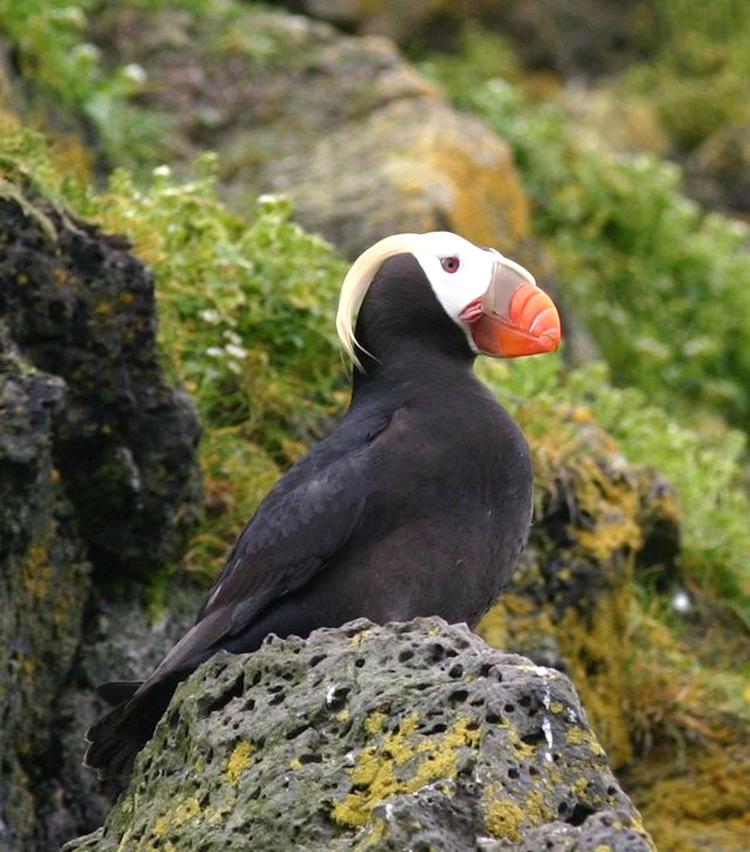 According to Underwood, the U.S. Fish and Wildlife takes a census at Haystack Rock every summer. As of a few days ago, 26 puffins were on the rock. Underwood remembers seeing thousands about 60 years ago. The decline has been steady and significant, since at least the 1980s.
Potential causes of the decline of tufted puffins include prey scarcity, introduced species, changing oceanic and climate conditions, oil spills, and entrapment in fishing nets. They are declining in Oregon, Washington, Alaska, California, and Japan. They are an endangered species in Washington, where more research is able to be done because of the funding that is available for endangered species.
From these studies, they have found that global warming is a major cause in the decline, but the primary cause is the change in the oceans, specifically the change in the ocean's temperature. The change in temperature causes the puffins' prey to shift location and the puffins can no longer reach them.
The Friends of Haystack Rock (FOHR) decided to initiate a puffin campaign and put together hooded sweatshirts and other merchandise. The proceeds from these sales go to raising awareness and provide funding for research. If they raise enough money, they will be able to put a tracking device on the puffins. The tracking device is a band that will track where the puffins go and when. The bands are $1,500 each.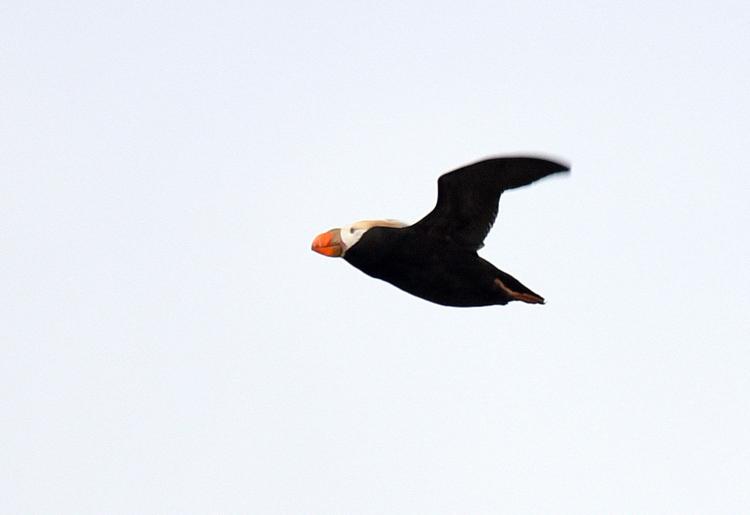 You can make donations at http://friendsofhaystackrock.org/contribute/ or visit their online store for merchandise at https://squareup.com/store/friends-of-haystack-rock.