In the summer of 2013, a change was happening in the ocean. It was initially unnoticed by all but the most observant – the sea stars were disappearing along the West Coast, becoming victims of sea star wasting disease (SSWD).
Claudine Rehn, deputy director of the Tillamook Estuaries Partnership, is a volunteer with the Haystack Rock Awareness Program, whose staff and volunteers monitor conditions locally as part of a collaborative citizen science project led by the Multi-Agency Rocky Intertidal Network (MARINe). Rehn began noticing large numbers of sick sea stars in the summer of 2014.
"Sea stars are a top predator in the rocky intertidal ecosystem. They eat mussels, limpets, barnacles and snails," she said. "If they are not present, an overabundance of the other species they prey on could occur and threaten the rocky intertidal ecosystem balance."
MARINe compiles data from the Cannon Beach sites as well as data from several other sites ranging from Alaska to Mexico and uses the info to track the overall long-term health and abundance of sea star populations along the Pacific Coast. Despite extensive study, the root cause of SSWD has not yet been determined.
Lisa Habecker, Haystack Rock Awareness Program education and volunteer coordinator, said the most recent research points to a sea star-associated densovirus that is prevalently influenced by increasingly warm ocean temperatures. She said he current evidence suggests that in warmer ocean temperatures, sea stars have a higher risk of infection and progression to mortality.
Highlighting the importance of ochre sea stars, Habecker said their presence or absence significantly affects the entire intertidal community. Sea stars are the only species that puts significant pressure upon California mussels, which are superior competitors. By preying upon the mussels, sea stars open up space for other animals, increasing the diversity and stability of the ecosystem
In the Cannon Beach area, extrapolated data collected from sites at Haystack Rock showed the problem reached its highest threat level in the summer of 2014 with 70 percent of the surveyed population being infected with SSWD. In the fall of 2014, it was down to 41 percent, but by spring of 2016 it was back up to 60 percent. The percentage of infected starfish in the surveyed population dipped down 38 percent in spring of 2017.
The Cannon Beach Gazette reported that a January 2018 survey found 64 of 247 monitored sea stars had SSWD symptoms (26 percent), a higher percentage than found elsewhere on the West Coast. In the latest survey, Habecker said 9 percent of the starfish population were found to be infected with SSWD, which she said was in line with percentages that MARINe found elsewhere.
Rehn said until the cause of the die-offs is discovered, it's hard to know what actions people could take to aid in the starfish recovery. She said refraining from touching the sea stars could help reduce the possibility of passing on the illness from one infected sea star to another.
Habecker said the most direct way to help the sea stars is by participating in the monthly local citizen science sea star surveys. The organization's website has information on how to volunteer to support the effort.
"We welcome anyone who wishes to help to come out and get involved," Habecker said. "Other ways include indirect actions like reducing our carbon footprint, which if done collectively, can have a real positive impact on the health of our oceans and planet."
SSWD is hard to recognized by its initial symptoms; a flattened appearance and lesion mark resemble numerous afflictions. Within days of the disease taking hold the sea star's tissue begins to decay and disintegrate. According to Alert Diver Online, many divers were unaware of the extent of the situation until almost unrecognizable starfish were noticed. They seemed to have melted into the seafloor.
"Imagine you're diving a reef one week, admiring the prolific life encrusting the rocks — sponges, sea fans, starfish and other invertebrates — and two weeks later you return to the same site and poof, the starfish are all gone, and everything else is unchanged," Allison Vitsky Sallmon wrote in an article about SSWD for Alert Diver Online.
Sallmon's report said the disease was first found to be affecting the common ochre star followed by reports of other affected species such as the sunflower star. Alarmed scientists with MARINe, consisting of 18 monitoring groups, organized a collaborative project centered on starfish health. They estimate that 23 sea star species have been affected.
"It's critical to understand that while wasting syndromes affecting starfish had occurred before, this event was quite different; never had such a massive die-off affected such a huge geographic area," Sallmon wrote.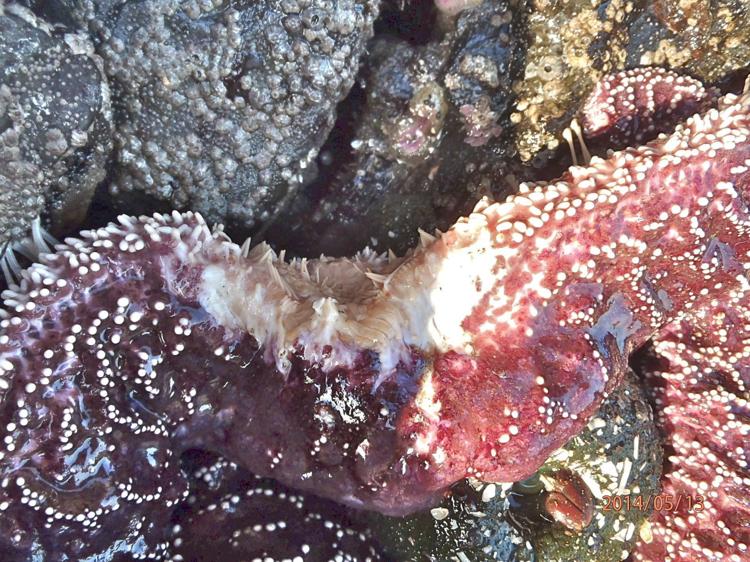 Melissa Miner, a scientist with the rocky intertidal monitoring group at the University of California, Santa Cruz, emphasized in Sallmon's report that the phenomenon warranted a swift, coordinated response.
"Prior outbreaks were cyclical, patchy and almost always associated with warm-water episodes," Miner said. "This outbreak, however, was coastwide and wasn't primarily dependent upon water temperatures. One of the worst die-offs during the recent outbreak occurred in Santa Barbara in the wintertime."
Many questions still remain about what aggravates the disease and why some areas are affected more than others. Historically, die-offs have been associated with warm ocean temperatures, but Miner said the organization has not seen a correlation between higher water temperatures and sea star wasting. Other influences such as density of starfish species or viral infection have been shown not to be definitively associated with SSWD on a widespread basis.
"Right now," Miner said, "we and many other scientists believe that the cause of the outbreak was multifactorial."
Sallmon wrote that certain species such as ochre stars have rebounded in some areas, while numbers of others such as sunflower stars remain extremely low. Recent reports indicated new observations of SSWD-affected sea stars of multiple species in Washington and British Columbia as well as sightings of sick bat stars in Southern California.
In June of 2018, Oregon Public Broadcasting (OPB) reported that a massive starfish baby boom was helping the devastated starfish population to recover. Starfish ecologist Bruce Menge reportedly has studied for decades with Oregon State University. He told OPB that by the summer of 2015, most research sites had lots of tiny little stars appearing. He counted hundreds of baby starfish in an area the size of his hand at one site.
"The babies have grown into juveniles and continue to grow at actually a pretty fast rate," Menge said. "When the animals mature to adulthood, chances are the numbers will actually be higher than they were before the disease."
He added that he still sees signs of the wasting disease in adult starfish, but it's much less common than before. New research suggests the new sea star populations may be evolving to promote genetic resistance to the virus causing the wasting disease. Researchers still can't explain exactly what caused the massive die-off, though they think it could be linked to climate change, according to OPB.
"These are things we've never seen in multiple decades of research," Menge said. "This recovery we think we're seeing is very helpful, but you're always a little worried because suddenly the system seems much more variable than it was before."
"What we're seeing is essentially a population still struggling to persist through this epidemic and only just beginning to recover," Haystack Rock Awareness Program citizen science coordinator Eric Owen said in a 2018 Cannon Beach Gazette interview.
Haystack Rock, like many places along the coast, had a significant resurgence of sea stars in 2015. The drop in wasting in early 2015 could be a result of a massive reproduction effort in response to the disease, Owen said.
A postdoctoral student at Oregon State University who has studied the disease since the first outbreak, Sarah Gravem told the Cannon Beach Gazette that part of what makes the disease so hard to research is its untraditional way of spreading.
Gravem said in recent years the percentage of sea stars affected by the disease at survey sites along the Oregon Coast have settled at closer to 10 percent. The figures reported in Cannon Beach in January are some of the earliest for the year, Gravem said, but could possibly be a worrisome indicator.
While many Oregon sites have made a substantial recovery, Gravem said, the sea stars are smaller. The role sea stars play in the ecosystem is a "big mean predator," she said, and their job is to eat prey like snails and limpets. If smaller sea stars are eating less, that could lead to an overabundance of snails and limpets, threatening the intertidal balance.