White Bird Gallery's winter exhibition, from Nov. 2 through Jan. 6, will run through the holidays and New Year's Day. This exhibition features art made from old books, wood, paper, paint and mixed media methods.
New artists
Valerie Savarie: Altered Book Sculpture. Savarie uses vintage books as the centerpiece of her creations, reinventing them into unique pieces through cutting, carving, stitching and character illustrations that are part of a larger visual storytelling. In selecting nooks, it is important they they be published before 1972 (or, is at least as old as Savarie). Sometimes the book instantly creates a visual concept, and other times, she seeks out a book that will echo her mental vision.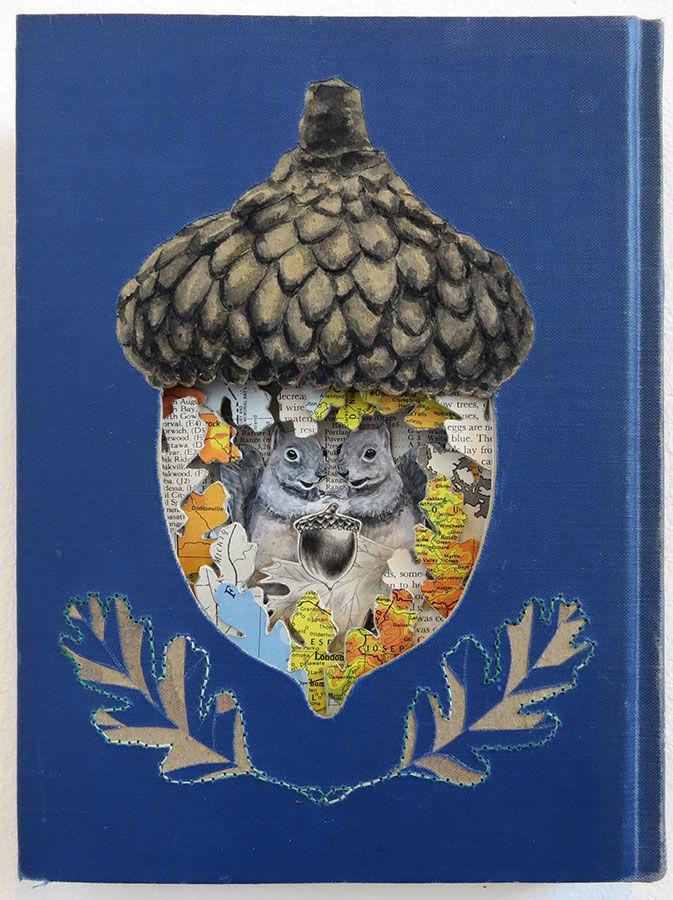 The characters Savarie makes – the inhabitants of the books – are always painted in black and white, which allow them to live in balance within their predominantly black and white (text and page) surroundings. Sometimes they are animals; sometimes they are more human. As her book sculptures evolve, she finds her work growing beyond short stories, moving towards epic series – generating from a moment in time, page by page, book by book.
Shadowfox: Subtractive Wood Relief. Eugene-based Shadowfox (Jason Pancoast) depicts meticulous renditions of animals, trees and nature-inspired scenes. His three-dimensional wood relief is influenced from years of architectural study at the University of Oregon. Through handmade layers of cut woof and paint inspired by the magical wonder of the Pacific Northwest, he explores the relationship between nature and narrative story and self.
Jon Nordquist: Coffee on Canvas. Using black coffee as a medium, he creates sepia-toned images that pay homage to Northwest nature and adventure. A cheap, ill-performing coffee pot turned out to be the simple mechanism for inspiration. One morning, with the light just right, he caught a glimpse of the patterned coffee spills on his countertop made from the fundamentally flawed appliance. The artist has always found beauty in everyday things, and from here, artwork was born.
Gallery Artists
Tom Cramer: Paintings, Woodcarvings and Functional Art. Cramer revisits his signature bright, bold, pop-culture aesthetic in these new works. Cramer gained much recognition throughout Portland in the 1980s and 1990s for his landmark outdoor murals, wildly painted art cars and carved miniature totems – all of which are bright, bold and lean toward American pop culture.
Cramer is currently the feature of a museum show that maps out the origins of his career, from early drawings, to paintings and three-dimensional works. It's on view at the Jordon Schnitzer Museum of Art in Eugene through December.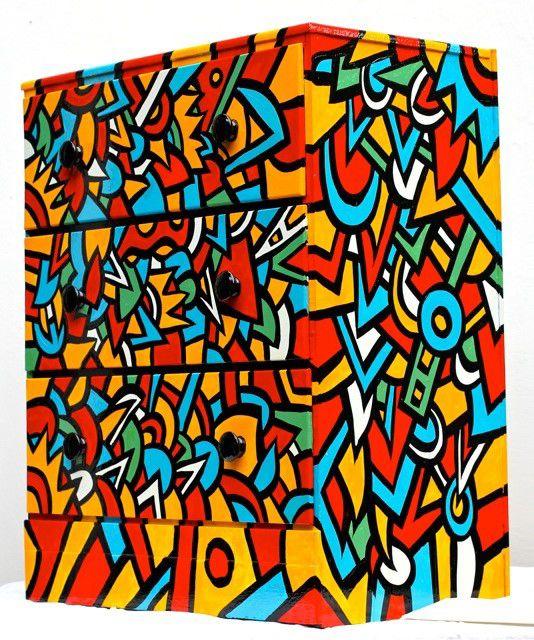 Stirling Gorsuch: New Monotypes. This unframed collection emphasizes his tactile approach to printmaking. Gorsuch is a local artist who grew up in Cannon Beach. He studied at Clatsop Community College with Royal Nebeker. His work currently explores the different ways he sees time recorded in landscape. He draws inspiration from forests, the coasts as well as the Cascades and high desert in eastern Oregon.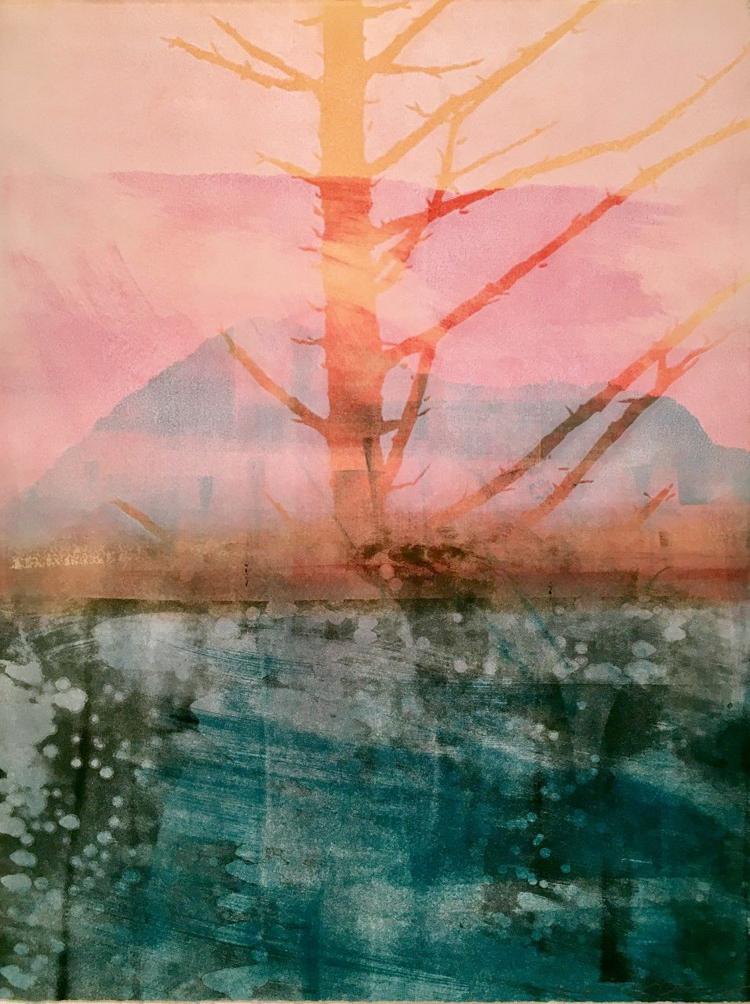 Over the years, Gorsuch has experimented with various media and subject media and subject matter, but there has been a constant theme relating to impermanence, transformation and environmental stewardship. He believes it is important that we strive to learn more about natural history, particularly of the places we live. As part of this exhibit, his monotypes are unframed. In person, the heavy paper surface he uses has a natural deckled rough edge.
Helga Winter: Book Reconstructions. Using reclaimed library books, her poetic assemblages speak about disseminating stored knowledge and making room for new ideas. Taking a book full of words, and possibly full of knowledge, and turning it inside out – she has hidden the words, that nevertheless are still there.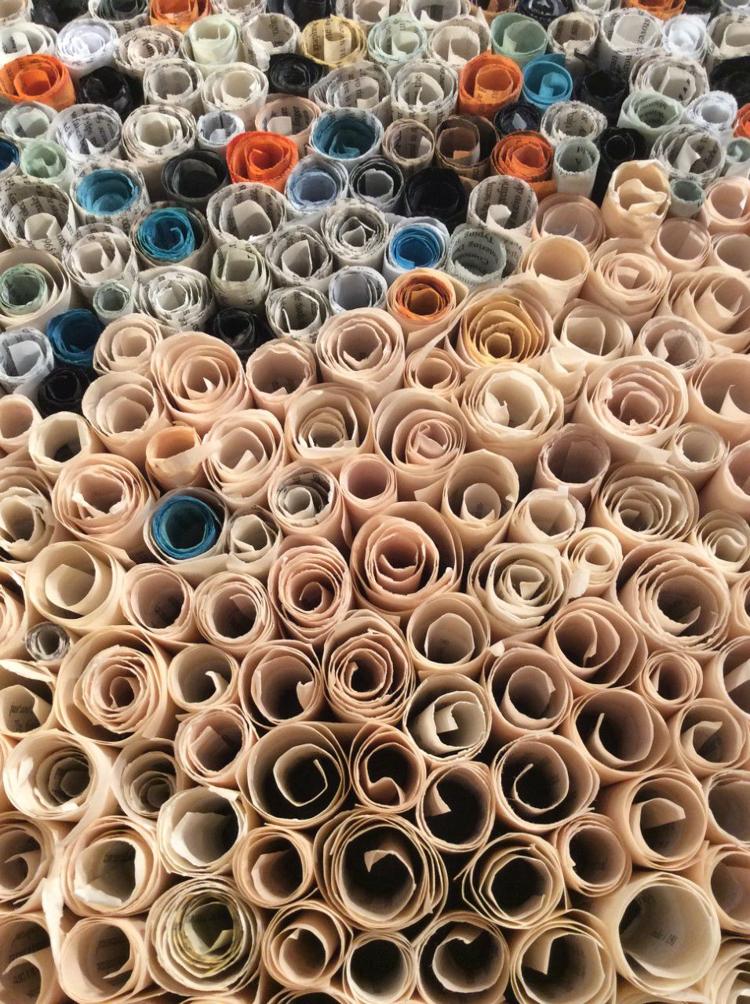 While deconstructing a book, Winter is rewriting, rewiring, reconstructing, relearning and rethinking. Tearing, ripping, coloring, waxing, rolling, arranging and gluing the pages is a practice. By turning the books inside out, she wants to turn her stories inside out, recognize how they can diminish her life, and then create new conscious stories that are closer to the current truth, allowing for new possibilities and greater potential freedom and strength.