There was no better way to have a holiday party for the North Coast Land Conservancy than to share gratitude to those who support the organization, executive director Katie Voelke said to about 100 guests to the Cannon Beach Chamber Community Hall on Thursday, Dec. 6.
"We're here to express our gratitude to the whole community for what it takes to support this work," Voelke said. "It just keeps growing and growing as a community."
Members of the organization presented a "pledge of gratitude" at the event, celebrating the cycles of life, to Mother Earth and its resources, wildlife and habitat.
It's been a "great year" for land preservation, Voelke added. "We've made some big headway into our Rain Forest Preserve campaign, and we're doing some work into the Tillamook County area we've wanted to get into."
The Coastal Edge will be a priority for the next four years, Voelke said. The Coastal Edge stretches from Tillamook Head to Nehalem Bay, where the mountains rise sharply from the sea. The conservancy's Coastal Edge Initiative seeks to link these pockets of conservation into large, connected corridors.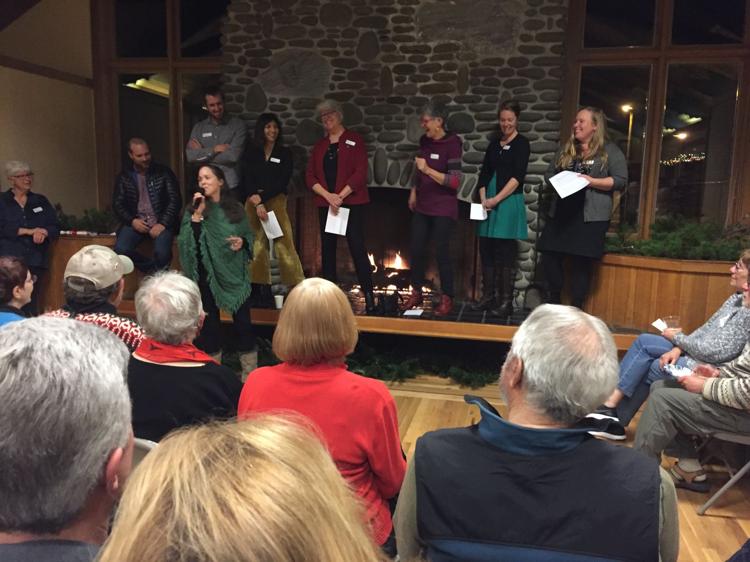 Discussions with a landowner for property at Arcadia Beach have been a little quiet lately." The property had been considered as a high-end trailer park before preservation discussions began.
"There's been some amazing donations to the campaign," Voelke said. "Some people who have never pledged before have pledged thousands of dollars for the next few years."
Linda Saucedo and Jay Shepard of Flair Home Decor donated 2 percent of gross annual sales for the fourth consecutive year, an achievement honored by Voelke and the conservancy.