SEASIDE — With a new plan to widen and restripe the roadway, the Seaside Planning Commission gave its unanimous OK Tuesday night for a new 18,000-square-foot Grocery Outlet.
A 175-foot-long "turn pocket" along U.S. Highway 101 southbound into Avenue N will satisfy the state Department of Transportation and the Planning Commission's requirement for a left-turn lane, representatives of Main & Main Capital Group said on behalf of Grocery Outlet.
The turn pocket will be developed before the new store opens.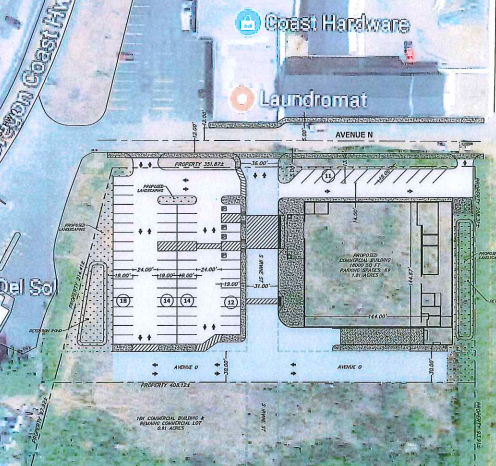 "What we've done over the last month is worked with ODOT to come up with something that will work," Main & Main's Dan Dover said.
According to Kevin Cupples, the city's planning director, ODOT emailed approval of the plan shortly before Tuesday's public hearing.
The Planning Commission originally approved the application in November, but it came with a high price: a condition of no left turns in or out of the property.
With an estimated 1,300 daily trips anticipated, commissioners were wary of adding to already long traffic backups, especially in the summer.
Developers would have needed to come up with the full cost of an estimated $3 million to add the turn lane.
Main & Main appealed to the City Council, arguing that the cost of the turn lane would exceed the cost to build the store.
In February, the City Council sent the application back to the Planning Commission with one instruction: make left-turn requirements proportional to the project cost.
The revised proposal, prepared by the developer's traffic engineer, satisfies both the City Council and the concern related to safety and traffic impacts, attorney Dave Phillips said on behalf of the developer.
While it is a "Band-Aid" fix, Chris Hoth, the Planning Commission chairman, said "it is a solution, and ODOT seems happy with it. I'm always reticent to do these things, but I think the conditions have been met here."
Even with the approval, a new challenge to the City Council may be in the works.
After the meeting, Karl Anuta, an attorney for Protect Pacific Northwest, called the Planning Commission's process "improper."
"The Planning Commission looked at, relied on and adopted a document that was never given to the public before this hearing," Anuta said, referring to the ODOT email.
He said he plans to conduct a traffic analysis of the revised plan.
"If this in fact solves the problem, we won't be opposing," Anuta said. "But I can't tell you right now whether that's going to be the case or not."
Dover, meanwhile, looked to the future in a process that has already stretched almost a year.
"I'm happy we got the approval," Dover said. "We're ready to go after all the appeals periods expire."