Jeremy Saldate, a small business owner of Harmonium, LLC in Tillamook has started a GoFundMe account to raise funds to build 10 ventilators for local use. To try to combat an anticipated upcoming ventilator shortage, he hopes to create stopgap devices based on designs provided by the MIT Emergency Ventilator (E-Vent) Project to support Tillamook County Regional Medical Center.
Harmonium, LLC has been in Tillamook since 2015. Harmonium, LLC provides comprehensive network penetration testing services, aiding clients in discovering vulnerabilities, repairing those vulnerabilities, conducting threat modeling, updating infrastructure to mount a proactive defense, and forming an incident response plan, including a disaster recovery plan.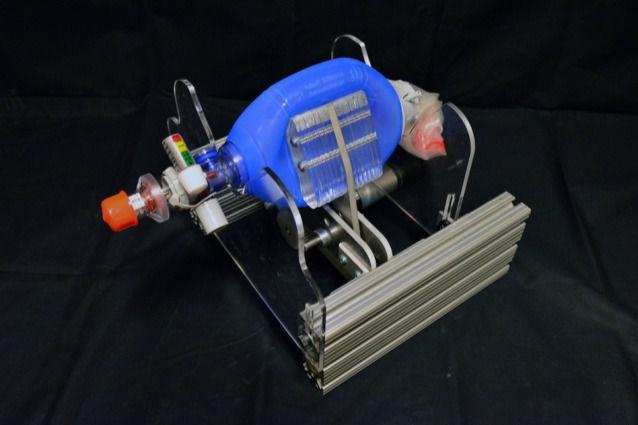 "I focused on the health care sector," Saldate said. "My customers right now, none of them are primary care physicians. They all practice different specialties."
Most of Saldate's clients are in the Portland area, with some in Tillamook. Because of the Centers for Disease Control order sent out in March, they have all shut down. Some are open for emergency only. These clients are worried about whether they will be a business after the crisis.
"As little as six weeks ago, I was looking at booking up my entire calendar for 2020," Saldate said. "A lot of that was referral work, a lot of that was through networking, and now all of that within the last few weeks has dried up."
A vast majority of the projects have been put on hold or cancelled.
Saldate has first-hand experience with manufacturing devices. He also has 20 years of professional programming experience. He will be manufacturing the ventilators in this project.
"The Health and Human Services has issued a freedom from liability," Saldate said. "It's a liability waiver, for any kind of interventions, which is what makes this possible."
"Because this is within my ability, I found this open source design that MIT has produced and I've talked to people at the local hospital about the project and they've got a lot of interest in seeing this come about," Saldate said.
Saldate said Adventist Health is worried about the supply chain supplying the number of ventilators they need.
The goal of this project is to minimize the loss of human life where possible, by supplying qualified clinicians with the tools they need during the COVID-19 crisis, to free up ICU ventilators to support the most critical patients, or support patients in life or death situations when there is no other option.
"The timing on this is really critical," Saldate said. "In talking with Tillamook County Regional Medical Center, they expect a full force of the pandemic to hit Tillamook County within the next few weeks."
Saldate said it is difficult to know when that will happen and the severity. It depends on the community's willingness and ability to self-isolate. If resources become overwhelmed, everyone can be affected.
Saldate's goal is to raise $25,000. He said it is difficult to know the exact cost; this is just an estimate of what he needs. He does not need the full amount to get started. The initial allocation of funds is intended to cover the cost of material to complete assembly of a prototype, and up to 10 emergency ventilators, to supplement existing ICU ventilators and combat the COVID-19 pandemic as it progresses through Tillamook County. If excess funds remain at the end of the project, he said they will be donated to the local chapter of the Oregon Food Bank.
Providing additional ventilators would be supplementing the hospital's efforts, Saldate said. The way the development process is expected to unfold starts with the plans released by MIT. The ventilator will operate at a similar level as a traditional ventilator.
Saldate said he will take the MIT design and augment it to improve patient safety, and bring it to the respiratory team at Adventist Health to consult with them. The prototype will have multiple revisions. The process will continue until Adventist Health gives Saldate the green light. Then he can start making copies of the design.
Saldate is volunteering his time to this project. He is not in a financial position to cover the costs himself and need funds from the crowdsourcing campaign in order to complete the project.
Saldate said he would like to have the prototype completed within one month. The projected peak of the pandemic in Oregon overall is May 5, he said. Tillamook is trending a little behind that.
"If we can meet that timeline, supplementing the existing resources that the hospital already has in place, we should be able to save additional lives," Saldate said.
Saldate has a consulting engineer, some additional people helping circulate the campaign, is consulting with the respiratory team at Adventist Health, and is the primary hands-on person in Tillamook County, he said.
Saldate said there has been interest in the project as far away as Los Angeles.
The project cannot move forward without donations. If you would like to donate, you can do so at https://www.gofundme.com/f/event-manufacturing