White Bird Gallery is hosting a variety of artistic happening during Stormy Weather Festival, several new artists who are innovative in their approach to media are part of the exhibition.
New artist Valerie Savarie is traveling from Colorado to demonstrate her altered book sculpture techniques in the gallery. Her demo is set for 11 a.m. to 2 p.m. Saturday, Nov. 2 at White Bird Gallery. Savarie uses vintage books as the centerpiece of her creations, reinventing them into unique pieces through cutting, carving, stitching, and character illustrations that are part of a larger visual storytelling.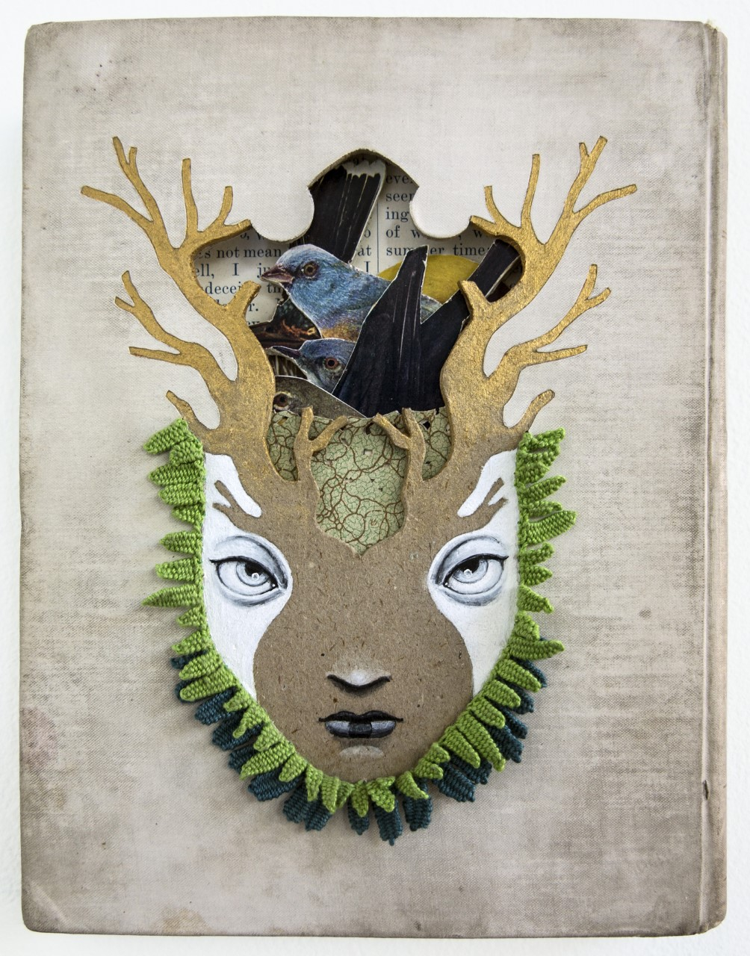 Tom Cramer is a native Oregonian and well-known artist who creates meticulously carved, painted, and gilded wood reliefs. Cramer gained much recognition throughout Portland in the 1980s and 90s for his landmark outdoor murals, wildly painted art cars and carved miniature totems – all of which are bright, bold, and lean toward American pop culture. This show revisits those themes in a series of new paintings, functional art, and his signature carved Totem sculptures.
The gallery is also showcasing new reductive wood sculptures by Eugene-based guest artist Shadowfox. These pieces depict meticulous renditions of animals, trees and nature-inspired narratives through hand-made layered wood relief. Local gallery artist Stirling Gorsuch has a new series of monoprints that will be shown unframed, emphasizing his tactile materials and process. New artist Jon Norquist uses black coffee as his innovative medium to create sepia toned images that pay homage to the nature and adventure of the Northwest. Long-time gallery artist Helga Winter has been using reclaimed library books for her mixed media wall hangings. Her works speak about disseminating stored knowledge and making room for new ideas. These poetic assemblages display a thoughtful use of media for Helga Winter who is known in the region for skilled wood-turnings.
New Artists
Valerie Savarie: Altered Book Sculpture
Shadowfox: Subtractive Wood Relief
Jon Nordquist: Coffee on Canvas
Gallery Artists
Tom Cramer: Paintings, Woodcarvings, & Functional Art
Stirling Gorsuch: New Monotypes
Helga Winter: Book Reconstructions