Miska Studio Gallery opened in Cannon Beach in January and is owned by popular artist Miska Salemann. The gallery is located at 107 Sunset Blvd and is open seven days a week from 10 a.m. to 6 p.m., as well as by appointment.
Salemann has been a painter for 25 years. She had been showing her work at Cannon Beach's DragonFire Gallery for 18 years and has had a vision of opening her own gallery for 20 years.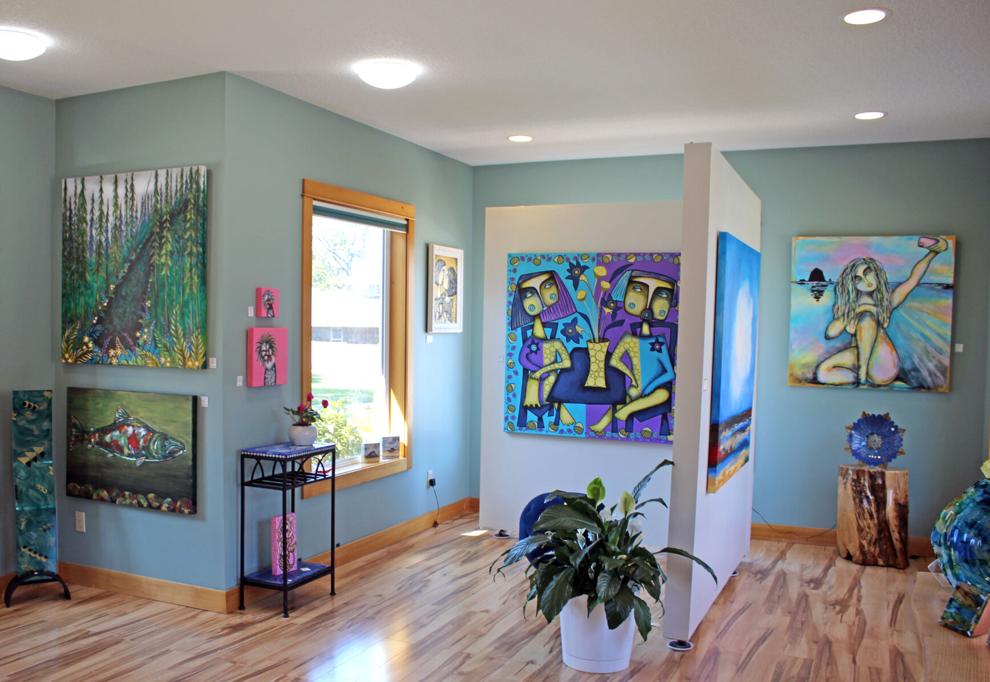 "I was a mother and a caretaker during those 20 years, taking care of my dad, who was a widow, and became elderly," Salemann said. "He just passed away a couple of years ago."
In her free time, Salemann would paint and have her work shown in galleries like DragonFire, as well as other galleries in the Pacific Northwest, New Mexico and Idaho.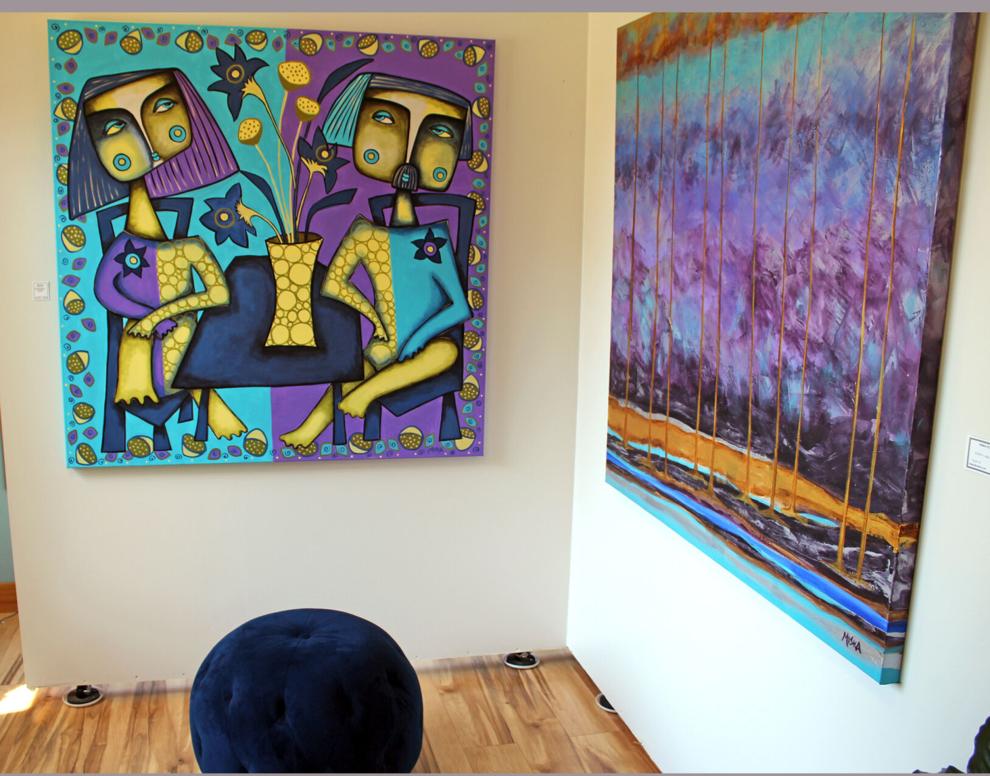 Owning her own gallery has been a long-time dream, Salemann said. She started painting when she was working as a real estate broker in St. Thomas, painting artwork for the walls in her home.
"I had never been in an art gallery before," Salemann said. "I was probably 27 when I walked into my first gallery in Puerto Rico."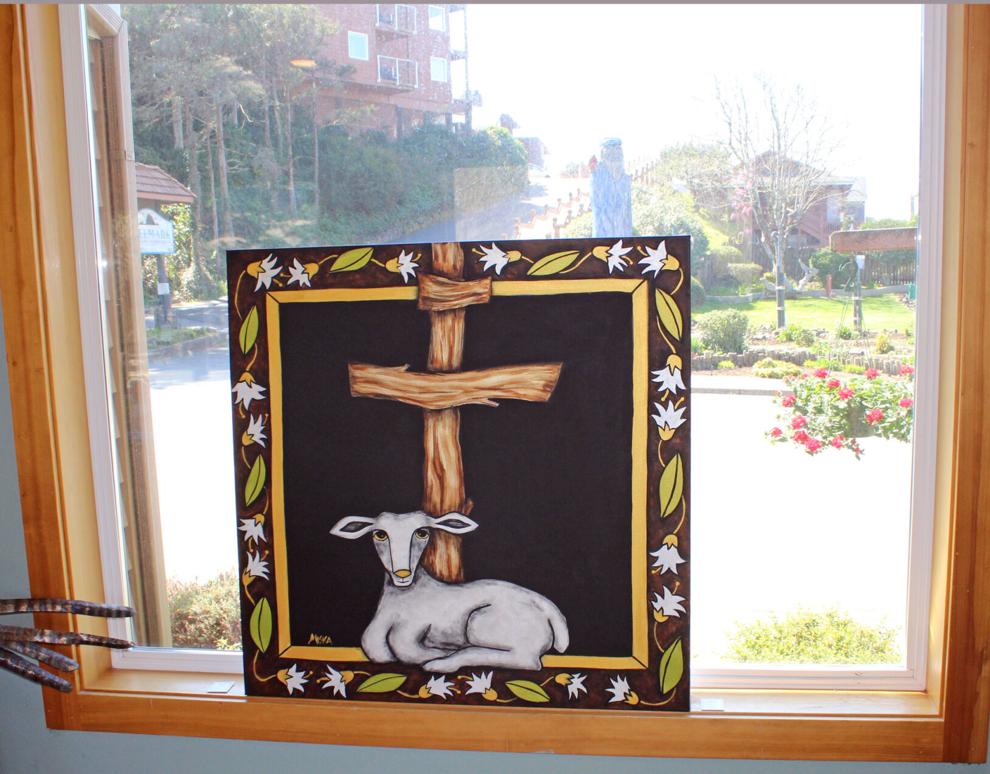 Salemann bought a book of Angel Botello artwork and made copies of his work for her home in St. Thomas. She taught herself how to be a painter, painting copies of work by Pablo Picasso and Vincent van Gogh, among others.
Salemann took a drawing class in college and was always told she should be an artist but had wanted to do some big business type of career back then and opened a real estate firm. She later moved to Washington to be closer to her aging parents.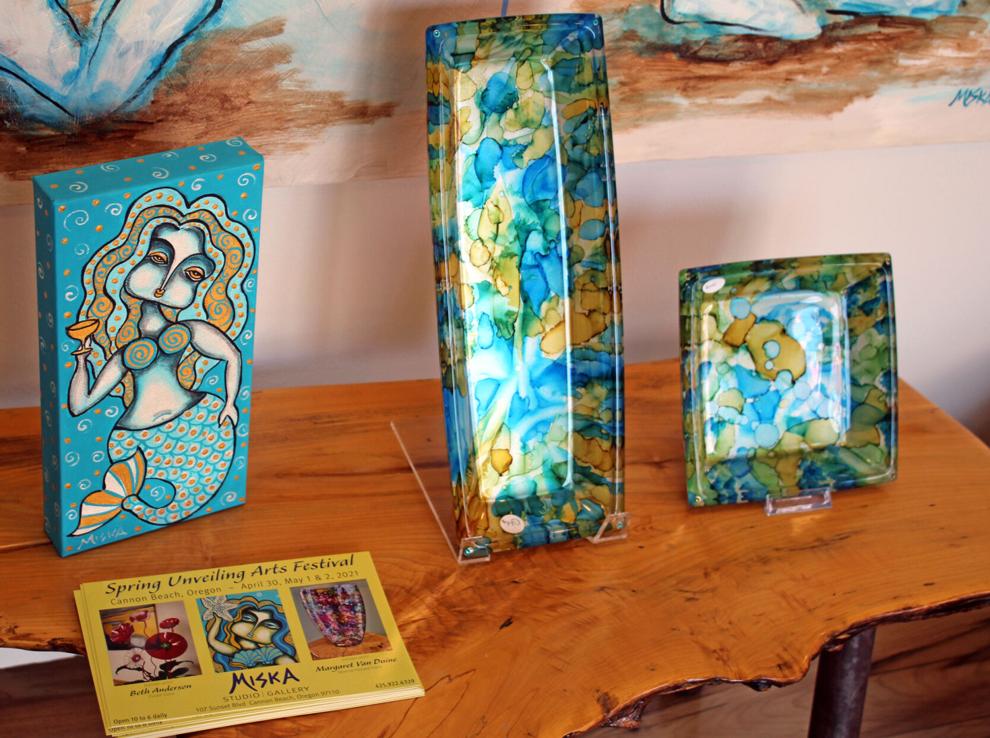 "I started hanging those paintings – copies of Picasso – and I started doing my own landscapes and whatever I felt like painting and hanging them in different Starbucks in Seattle, Bellevue, and Tacoma," Salemann said. "A gallery owner from Tacoma actually asked me to show in his gallery."
At that time, she was also showing in Kirkland, Wash., as well as DragonFire Gallery in Cannon Beach, after walking in with a couple of paintings. Last year, she started painting live every weekend to see what it would be like when she opened her own gallery.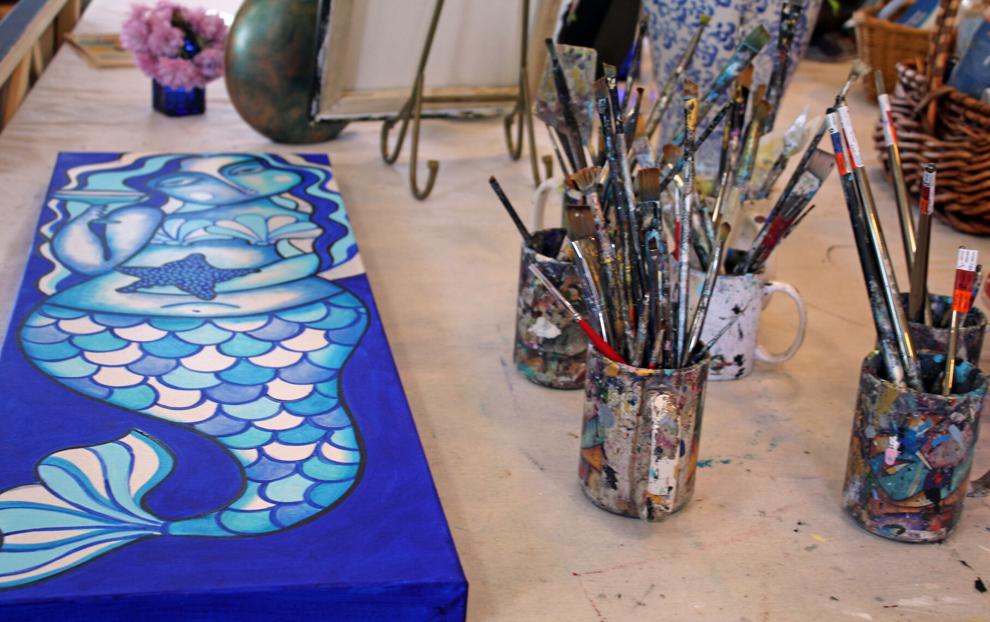 "People walk in every day because it's so visual, this location," Salemann said. "My window art draws them in."
Before opening her gallery, where she also resides, Salemann lived in a rental property she bought on Sunset Boulevard in Cannon Beach. She lived there for three years before moving into her gallery. She also has a farm in Fall City, Wash. she visits about once a month. In Fall City, she would host an Art Farm, a three-day community event.
"I have the real estate investment with the apartments above and just the building alone," Salemann said. "I can work in the building, I can manage my properties and paint."
Salemann's friend Julie Jessum moved to Cannon Beach to be the gallery manager, assisting in any way she can. The two have known each other for 12 years.
"She helps with the paperwork, she's getting involved in the Chamber, representing the gallery at different events," Salemann said of Jessum. "She's my gal."
Salemann has a devoted following of collectors, many of which have found her on the coast and through Instagram. In 2000, Salemann was chosen by U.S. ART magazine as one of 25 prominent artists featured and called an 'emergency success.'
She paints different genres, including abstract figurative work, landscapes, wildlife and farm animals. She also gets a number of people commissioning her work. On April 20, she had been working on a mermaid.
Miska Studio Gallery is also featuring the work of two Washington glass artists, Beth Anderson with fused flowers and Margaret Joyce VanDuine with reverse painting glass, as well as woodworker/sculptor Craig Breibach.
The gallery is getting ready for the Spring Unveiling Festival held Friday, April 30, through Sunday, May 2. The gallery will also participate in the Environmental Awareness weekend in July and the Stormy Weather Arts Festival in November.
Salemann and Jessum said they are happy to be in Cannon Beach, surrounded by beauty and music in the studio. They hope visitors and residents come to visit the gallery and they appreciate the support they have received from the community.
Follow Salemann on Instagram @miskapainter or her Facebook account, Miska Salemann.